AN IMPORTANT MESSAGE TO THE PUBLIC

UNSCRUPULOUS - DECEITFUL - IGNORANT
Information obtained from web: (Google link)
Verizon has been accused of refusing to fix landline phone service in order to force customers onto Internet packages with voice service that may falter during power outages. The Utility Reform Network (TURN) filed an emergency motion last week with the California Public Utilities Commission (CPUC) that asked the agency to order Verizon to repair the service of copper-based landline telephone customers who have requested repair or wish to retain the copper services they were severed from. The group accused Verizon of deliberately neglecting the repair and maintenance of its copper network with the explicit goal of migrating basic telephone service customers who experience service problems.
California residents aren't the only ones experiencing these problems. As a Long Island resident and former employee of Verizon, I can attest to the devious tactics of Verizon and the harassment I have experienced from them. While I believe there are many responsible, intelligent employees throughout the company who have a positive work ethic, a good chunk of the work force doesn't. These robots lack integrity, intelligence, and a back-bone. They don't know the meaning of the word 'integrity'. Fearful of losing their jobs, they obey everything they are told to do . . . even lie to the public.
For the past several years and counting, I have endured harassment from Verizon to switch to FiOS and have been punished when I didn't comply. How? Constant disruptions and 'down time' with my phone and DSL. Either my phone wasn't working or I couldn't access the web. Most times it was both. And the repair time was often lengthy. When I called 'repair' to report a problem, they didn't listen to what I had to say. Instead, they aggressively tried to push me into installing FiOS. But here's the 'kicker'. They wanted me to relinquish my 'concession phone' and put me on their 3-way plan, which would have been triple the cost for me.
This past Tuesday, (for whatever reason) Verizon was screwing around with the lines that provided my phone and web service resulting in my inability to access the web for several hours that afternoon. I had been on the web that morning with no problem. I knew they were out there messing with the cable lines when I heard my phone ring several times for no reason earlier that morning. I didn't have a problem with my phone or web connection at this time nor had I reported having a problem. So why were they screwing around with the lines? Obviously to make problems. You must understand, my phone and web service are constantly out of order. It's ongoing with Verizon. It's called harassment.
Later that Tuesday afternoon, I noticed the green 'internet' light on my modem was out. My web connection was down but my phone was still O.K. The phone is a concession phone from when I worked with Verizon. It connects me to the web via DSL. I called 'repair' to report the problem and was connected to India. ( A normal procedure for Verizon). I was informed by the Indian technician that someone would be calling me about the problem on Wednesday.
After a fierce thunder and lighting storm Tuesday evening, my web connection was mysteriously restored. Unbelievable since Verizon's excuse for my phone and web problems was always due to the 'rain'. "It flooded the cable wires." I guess only a normal rain - and not a torrential downpour with thunder and lighting causes problems for their equipment. The point is - they're full of s---! Why would the connection restore unless someone on the inside put the wires back the way they should be. This incident negated their years of phony, lying rhetoric. They must think they're dealing with idiots like themselves. The next morning, I explained to the Verizon tech when he called that my web connection had been mysteriously 'restored' and I pleaded with him not to change anything until after the weekend. Ignoring my request, another technician arrived and hung around the pole outside my house for several hours. (Remember - my phone and web connection were working before either of them came on the scene and messed up the wiring). When the 2nd tech (who hung on the pole) knocked on my front door, I told him my service was O.K. and I asked him not to change any of the wiring on the pole until after the weekend. I suggested they wait as we were scheduled for more rain. Obviously, he didn't listen as hours later he informed me that my service was disconnected because 'he found the problem and fixed it'. He swore my service would be restored by 4:00 P.M. The office just had to turn it on. Of course, being the holiday, no one was in the office and I knew that wasn't going to happen. I asked him for the work order number he was using, but he made some excuse it was in the truck and to calm me down, he gave me his cell number if there was a problem. I called his number three times, but my calls were never answered until my 4th call the next day on July 4th. He seemed surprised that I didn't have service (move over so I can throw up). So here it is - July 4th - and I am cut off from phone and web service. And I'll go a step further. It was done on purpose. I was once again being harassed. How do I know this? My neighbor, two houses away, whose phone line is on their same cable as my service didn't go down. They didn't have a problem. The technician on the pole told me that they, like myself ,were the last few people that had copper wired land phones on the same Verizon cable.
This didn't compute. Why didn't their service go out? Same cable. Same street. Two houses away - and yet - they don't have a phone problem. I wondered if they had problems with Verizon for the past several years. That's right. I said YEARS. I've had problems with Verizon for at least five years, but since 2012, they pushed harder than usual to install FiOS on my premises. I did hear that the neighbors were being pressured to change to FiOS, but they didn't wish to. I called them on the 4th, and their answering machine clicked right on - so I knew they had phone service, but I could only leave a message. Based on the technician's information, I assumed they were resisting Verizon. I found out today, July 5th, they had recently cancelled with Verizon and switched to Cable. So, I guess the reason they had service was because of their switch to Cable.
It kind of reminds me of the same devious tactics we have all experienced with Obama politics . . . lies, sabotage, illegal practices, covert statements. In my particular case, Verizon (maybe Verizon/Obama) wants to ignore the legal severance package I received when they 'booted' me and others out of the company in a 'forced retirement' years ago. One of the 'perks', in addition to the Mickey-Mouse pension, was a monthly phone concession for local calls with a 'cap'. Now these greedy misfits would like to modify and change my contract as they see fit. If I sound angry and vindictive, I am! Let me continue with some more info from this recent investigation by TURN - (all may be verified on the web - Google).
Verizon spokesperson Jarryd Gonzales said, ďThese claims are blatantly false. We have identified certain customers in fiber network areas who have had recurring repair issues over their copper-based service recently or clusters of customers in areas where we have had recurring copper-based infrastructure issues. Moving them to our all-fiber network will improve the reliability of their service. When these customers contact us with a repair request, we suggest fiber as a repair option. If the customer agrees, we move their service from our copper to our all-fiber network. There is no charge for this work, and customers will pay the same rate for their service. Most customers recognize and appreciate the increased reliability of fiber and gladly agree to the move to fiber. Few customers across our service area have chosen to stay with copper, and, once on fiber, few ask to return to copper. Nobody is forced to take our services, nor are customers given new services without consent or knowledge.Ē

COMMENT: This is an outrageous lie as many customer complaints attest to - including mine.

ďCustomers who don't want fiber can remain on copper and we'll fix their service issues, " Verizon said. ďIf customers move to fiber and then decide they want to return to copper, we will return their service to copper."

COMMENT: Another lie.
A Verizon employee, Martina Ortega, spoke out at a public hearing Tuesday in front of the California Senate's Energy, Utilities, and Communications Committee.
She said, Ē Verizon is making wireless service - not fiber - the only option for some customers." Ortega, who identified herself as a worker in Verizon's language assistance copper repair center also said, "I have been trying to help a customer who has been out of service since January. I contacted a supervisor who told me it would be too expensive to repair and that the customer's only option would be Voice Link, a wireless Internet service. To this date the customer has been out of service."
In addition, Ortega remarked, ďCompany rules prevented her from informing the customer about the option to complain to the Public Utilities Commission. Ortega said 'whistleblower' protections are important, as she is aware of Verizon's plan to force customers to migrate to services they do not want.Ē
A man who identified himself as a San Jose resident said, "Voice Link is a very shoddy, grossly inferior phone service that Verizon is trying to force onto its phone customers. Voice Link is about as useful as talking with a can and string."
Verizon may not have actually deployed Voice Link to anyone in California just yet. Verizonís migration program has been expanded nationally to involve migration of copper landline phone customers to a fixed wireless service called Voice Link in areas where FiOS has not been deployed.

TURN said in its complaint. "It is not clear when Voice Link will be offered in California. But the CPUC must be vigilant and ensure that the problems identified in customer complaints about Verizonís forced migration practices do not make a repeat appearance when Voice Link arrives."
"Both FiOS and Voice Link rely on the public power system, and, during lengthy power outages, phone service including access to 911 will cease to operate when the batteries at a customerís home are depleted, "TURN commented.
Verizon claims that FiOS 'Digital Voice' can operate for up to eight hours on backup power. Verizon advertises the same amount of backup time for Voice Link.
While the Federal Communications Commission is considering proposals to let phone companies stop maintaining older landline infrastructure by 2020, AT&T and Verizon currently have plenty of landline customers. The California incident is reminiscent of a controversy last year in Fire Island in New York. After Hurricane Sandy wiped out infrastructure on much of the Island, Verizon sought permission to stop repairing damaged wire line phone networks, hoping to make a wireless product called ĎVoice Linkí the only option in the most heavily damaged areas.
Fire Island residents called the wireless service substandard, and New York Attorney General, Eric Schneiderman, said it would deprive customers of the ability to use wire line-dependent services such as fax machines, alarm systems, medical alert devices, and DSL. Battery life was also a concern, especially during blackouts.
In California, TURN said there are Ďindications' in the customer complaints that calls to Verizon's repair lines do not always result in a trouble ticket being generated. TURN's announcement states:
TURN cited customer complaints from Long Beach, Torrance, and Cerritos that accuse Verizon of refusing to fix customersí copper service. TURN telecommunications director Regina Costa said, ďVerizonís practice of allowing its copper network to deteriorate and then attempting to migrate basic telephone service customers to either FiOS or Voice Link without notice, explanation, or choice is harmful to the public.Ē
VERIZON'S TACTICS
Complaints cited by TURN included one from a customer whose grandmotherís phone line was suspended due to the fact that she has not upgraded. She is an elderly woman and does not wish to be forced into having something that she does not require. Verizon informed TURN that, ďThe woman would be without service if she refused to switch.Ē
Verizon is quick to offer FiOS installation, but 'requested repairs' of copper-based phone service are subject to long delays if they happen at all. One complaint stated, ďVerizon is threatening that if we donít switch over to digital and get rid of copper that their response time for fixing any phone problems will go from one to two days to two weeks.Ē
Author's comment: (I recently called Verizon to advise that my phone service was out of order and was blatantly informed by one of the mental midgets in Customer Service that if I didn't switch to FiOS, I would no longer have any service. I could take my business elsewhere." That's when I filed another complaint with the Public Utility Commission and found this article on the web).
To my surprise, I found the information I am referring to on Google which had several links. I had no idea how widespread this Verizon phone situation was. I have taken excerpts from the various web pages to verify my own case against Verizon.
______________________________
TURN's - (The Utility Reform Network) - complaint to CPUC said , "As a regulated telephone corporation and carrier of last resort, Verizon is obligated to maintain adequate facilities, including performing repairs necessary to provide basic telephone service of reasonable quality to its customers."
"The State Utility Commission should investigate whether Verizon's customer migration practices take advantage of senior citizens, poor people, and those with limited English-speaking skills."
"Verizon misleads or lies to basic phone service customers who request service repair about its attempts to migrate them to a different service. Verizon does not always inform customers that they are being migrated to FiOS. In some instances, Verizon has migrated senior citizens without their consent."
"Verizon should be required to provide data on customer migrations and provide proof that customers migrated to FiOS receive the same voice service at the same price and receive service subject to the same regulatory oversight as the customer's previous copper-based service."
Most substantially, TURN argued that the Commission should issue an order requiring Verizon to:
1) repair the service of copper-based landline telephone service for customers who contact the repair center;

2) restore copper-based service to customers who wished to retain it, but were migrated to FiOS or Voice Link; and

3) cease the deceptive and misleading marketing practices reported by Verizon customers in their complaints to the Commission.
The complaint TURN filled was as a result of the complaints it received from Verizon customers who were moved to VoIP without their consent and the fact that VoIP did not have the same regulations as other services making it less secure. It has been noted that VoIP does not function during power shortages, and cannot be linked to other services like fax, medical systems among others. This just comes after the Federal Communications Commission allowed communication carriers the change to run trials to shift customers to IP networks. They are now examining the implications such a shift might have on the customers. As for now, TURN wants FCC to order Verizon to repair the copper networks.
ADDITIONAL ANALYSIS:
1) Verizon does not adequately repair and maintain the copper network necessary to provide regulated basic telephone service and other telecommunications services. Instead, Verizon deliberately allows its regulated network to deteriorate.

2) In some cases, Verizon refuses to repair the copper plant necessary to provide regulated landline telephone service when basic telephone service customers request repair.

3) Verizon has a policy and practice of surreptitiously 'migrating' unwitting California basic phone service customers who request service repair away from their phone service of choice to other Verizon services, such as FiOS (which is a largely deregulated VoIP phone service) and possibly to a new fixed wireless service called Voice Link. Customers are migrated to FiOS in neighborhoods where fiber has been installed with planned migration to Voice Link in non-FiOS neighborhoods. In the case of FiOS migration, at least some customers are not informed that they are being migrated. Furthermore, customers are not informed of the ramifications of being moved from regulated basic phone service to a largely deregulated VoIP phone service, with diminished consumer protections, that is inferior to basic phone service in certain important respects, including superior reliability during prolonged power outages.

4) It is unclear whether a trouble ticket is always generated when a customer calls in requesting repair and is migrated to FiOS, or whether only an installation order for FiOS is created. If trouble tickets are not generated it would have the effect of reducing the number of trouble tickets and reduce the magnitude of service quality problems reflected in Verizonís service quality reports to the Commission, pursuant to G.O. 133-C.

5) Verizon misleads or lies to basic phone service customers who request service repair about its attempts to migrate them to a different service. Verizon does not always inform customers that they are being migrated to FiOS. In some instances, Verizon has migrated senior citizens without their consent.

6) Many customers who call repair centers to have their copper-based landline service repaired become upset when Verizon tries to install FiOS instead of repairing the phone line.

7) Regarding Verizonís desire to migrate customers to Voice Link, a customer of basic telephone service who makes two calls to a Verizon repair center for outside plant problems within six months is deemed a 'chronic customer'.

Author's comment:
"The reason someone may be a chronic customer is due to Verizon's intent not to fix the problem to begin with - only pretend to. They use and re-use old, worn-out parts they know won't last and that won't offer durability. Using this tactic, they can claim the problem is unfixable and enforce their goal to migrate these 'chronic customers' they have created with their devious actions to FiOS or Voice Link in lieu of maintaining and repairing various copper lines. There is no reason to think that this national goal will not be pursued here on Long Island as well as in California."

Verizonís efforts to deceive customers and its policies and practices pertaining to inadequate maintenance, and customer migration instead of repair are directly tied to this docket (TURN's complaint) because these deceptive practices occur as a result of a basic telephone service customer contacting Verizon to request phone service repair. These issues are addressed in more detail in Section V of this Motion.

As discussed in Sections VI and VII, Verizonís policy and practice of failing to maintain and repair service and then migrating customers away from copper-based landline to FiOS or Voice Link in California is similar to Verizonís efforts in New York, New Jersey and the District of Columbia to abandon copper plant and force customers to Voice Link. These efforts have been opposed by numerous parties, including the New York Attorney Generalís Office, CWA District 1, AARP, first responders, Competitive Local Exchange Carriers (CLECs), the D.C. Office of People's Counsel, elected officials and thousands of residents of the communities where Verizon is refusing to restore copper-based landline telephone service.

Further, in Section VI we address the harm to customers caused by Verizonís business practices aimed at customer migration through deliberate neglect of its network. Basic telephone service customers migrated to FiOS lose valued regulatory protections. FiOS is a fiber-based Voice over Internet Protocol (VoIP) service. Given recent state legislative action, carriers like Verizon will likely assert that digital voice service offered through FiOS is not subject to most of the universal service and consumer protection requirements that apply to non-VoIP, copper-based landline basic telephone service. As further explained in Section VI, Voice Link is a newly introduced fixed wireless service that is functionally inferior to regulated, non-VoIP, copper-based landline telephone service in several key respects. Both FiOS and Voice Link rely on the public power system and during lengthy power outages, phone service - including access to 911 - will cease to operate when the batteries at a customerís home are depleted. The need for immediate Commission action to prevent further unlawful degradation of Verizonís network and put a halt to Verizonís unscrupulous treatment of its basic telephone service customers is clear. In Section VIII of this motion, TURN recommends actions that the Commission should take to preserve service quality and protect Verizonís customers.

III. SUMMARY OF REQUESTED RELIEF

TURN requests that the Commission take the following actions.
1) The Commission should issue an order requiring Verizon to: 1) repair the service of copper-based landline telephone service customers who contact the repair center;

2) restore copper-based service to customers who wished to retain it but were migrated to FiOS or Voice Link; and

3) cease the deceptive and misleading marketing practices reported by Verizon customers in their complaints to the Commission. (See Attachment 1 and Section V of this motion.)

4) The Commission should investigate whether, and to what extent, Verizonís customer migration practices and failure to maintain the copper network in certain communities take unfair advantage of senior citizens, customers on low incomes and limited English speaking populations.

5) The Commission should require Verizon to provide data, by location, on the number of customers who have been migrated and where the data indicates even minor concentrations of customer migrations, those areas should be included in the examination into the adequacy of Verizonís network maintenance and investment described in the September 24, 2012 'Scoping Memo'.

6)The Commission should determine whether a customer call to Verizon's repair line results in Verizon generating a trouble ticket when the customer is voluntarily or involuntarily migrated. There are indications in the customer complaints that trouble tickets may not be generated in all instances. If this is the case, the data reported by Verizon pursuant to Commission service quality reporting requirements may be misleading and may understate Verizon service quality problems.

7)The Commission should require Verizon to provide proof that customers who have been migrated to FiOS receive the same voice service at the exact same monthly price and continue to be subject to the same regulatory oversight as the customerís previous copper-based service as previously represented to the Commission by Verizon.

8) Once the Commission issues the order to cease and desist its misleading marketing practices, Verizon should be required to submit to the Commission all information provided to customers pertaining to customer migration and all training material, customer representative scripts, technician scripts and other directions to Verizon employees regarding its copper repair and customer migration practices.

9) The Commission should verify whether Verizon has complied with the requirements of D.10-01-026 and provided customers migrated to FiOS or Voice Link with mandated information on back-up power requirements for these services to function during power outages.

10) The Commission should move promptly to prevent further unlawful deterioration of Verizonís network. In accordance with the 'Scoping Memo' in this docket, the Commission should move as quickly as possible to fully investigate whether Verizon (and AT&T) is adequately maintaining its copper network. This requires issuance of the RFP as described in the September 24, 2012 Assigned Commissionerís Ruling and 'Scoping Memo'.

11) As part of the Commissionís investigation, Verizon should be required to provide the CPUC with data regarding the number of employees transferred to Voice Link and hired to provide Voice Link. Verizon should be required to provide CPUC with data regarding the expenditures for customer migration and investment in Voice Link so that the Commission can compare the resources Verizon has devoted to migrating customers with the resources Verizon has devoted to maintaining its copper-based basic telephone service.
The

Commission has a statutory duty to ensure that telephone corporations such as Verizon provide customer service that meets reasonable statewide service quality standards including, but not limited to, standards regarding network technical quality, customer service, installation, repair and billing under PU Code ß 2896.

The 'Scoping Memo' states that the Commission has a responsibility to ensure that services overseen by the Commission are provided in a manner consistent with the public safety.

Already, before the RFP has even been issued, the Commission has evidence showing that Verizonís outside plant is not being maintained. Now, based on further information provided below in Section V, it is clear that Verizon is taking advantage of its own decision to allow its facilities to deteriorate as a prelude to trying to force customers to abandon their regulated landline telephone service when service quality becomes unacceptable. The Commission cannot allow this situation to continue.

NEW EVIDENCE CONFIRMS THAT VERIZON IS ACTIVELY IMPLEMENTING A STRATEGY TO FORGO NECESSARY MAINTENANCE AND, INSTEAD, FORCE CALIFORNIA PHONE SERVICE CUSTOMERS TO MIGRATE TO NON-COPPER SERVICES.

The NY AG and CWA District 1 have shown that Verizon is telling customers in other rural areas of New York State not impacted by Sandy that Verizon will not repair landline facilities and, instead, customers will be migrated to Voice Link.

VERIZONíS PRACTICES IN CALIFORNIA ARE PART OF A NATIONAL STRATEGY, AS EVIDENCE BY ITS ACTIONS IN NEW YORK, NEW JERSEY AND THE DISTRICT OF COLUMBIA

As discussed previous, customers in the areas of New York and New Jersey, where Verizon is attempting to discontinue providing copper-based landline phone service and force customers to move to Voice Link, are vehemently opposed to Verizonís proposal.

The NYPSC web site pages dedicated to Verizonís Voice Link proposal lists over 1,700 public comments. In pouring over these pages, one is hard pressed to find a single commenter who supported Verizonís plan. The practice of deliberately allowing the regulated network to fall into disrepair and then using that as an excuse to move customers to Voice Link eliminates a competitive choice that customers value highly. Verizonís objective is to let its regulated copper network deteriorate to a level that is beyond repair. As the network deteriorates and customers experience problems, Verizon will try hard to push customers off of its regulated landline phone service and over to either unregulated FiOS or Voice Link, a service that is clearly inferior to copper-based landline phone service. The upshot is that customers who would rather continue to receive regulated, copper-based landline service lose that option.

Verizon Tries to Supress Internal Whistleblower Documents - Wants CPUC to Ignore Crucial Evidence

Tuesday, April 15, 2014, San Francisco--In a supplement to a motion originally filed at the California Public Utilities Commission (CPUC) on March 17, TURN is demanding that the Commission review crucial evidence supplied by an anonymous Verizon whistleblower. TURN has notified Verizon of its desire to bring the evidence before the CPUC, but Verizonís initial response was that it contains legally protected trade secrets.

The evidence is an internal Verizon document that describes policies and procedures highly relevant to TURNís request for emergency relief for customers who had problems with their phone service and called Verizon for repair. Instead of fixing the phone lines, Verizon 'migrated' customers to a fiber-based, mostly deregulated VoIP service, in some cases without their knowledge or consent, and refused to fix the phone lines. TURN believes the document raises significant issues of public concern, which may be why it was mailed to TURNís office without a return address.

__________________________

There is more information - too lengthy to publish at this time on this page. One may find several links on Google to read all the information posted to date. It is my intent to upload this article as soon as my web service is restored. I do not know as of today's date - July 4th, 2014 - if this action by TURN has been resolved. I certainly intend to find out as soon as I am able to. Meanwhile, I hope this information is helpful to anyone who is experiencing trouble with Verizon. You can make a complaint to New York's Public Commission and I urge you to do so if you have a case. Insist that they listen to your complaint.

Because I anticipate a possible reaction from Verizon, I will not return emails unless I am totally convinced it is not one of them posing as a 'customer' seeking help. Trust me. They are not incapable of misrepresenting themselves. They have done so with me on several occasions in the past - IDIOTS!

UPDATE: JULY 5TH - 3:00 p.m.

I am still without service. Around three o'clock, I had a knock on the door. It was two different Verizon technicians. One of them told me they were "going to try and fix my phone problem." Now remember - the technician on the pole this past July 3rd told me he had 'found the problem and had fixed it'. The office just had to turn it on, which we know never happened. Does this make any sense? The problem was supposedly fixed on the 3rd by the tech on the pole, but evidently he just thought he had fixed it or someone sabotaged his efforts. Verizon wants to terminate the terminal my phone line generates from. One by one, they have harassed customers to terminate their copper wire service or give in to having FiOS installed.

I called the neighbor again during this past hour, and their son answered my call. He informed me that his parents had a big fight with Verizon recently about not receiving their incoming calls (I had similar problem from this March until end of May). They decided to terminate Verizon and made a switch to Cable.

4:15 p.m. The technician came to my door. He found the problem. My phone and web are now working. Wow. It only took an hour for him to fix the problem after three days of effort by the other men. The reality is - he knew exactly what and where the problem was. All he had to do was re-connect the wiring the way it should be. Which proves my point that this company is determined to force me out or get me to consent to installing their inferior FiOS.

I am one of the few remaining copper-based landline phone customers in a particular area serviced by the same cable line they wish to get rid of. As I have said in the past, I would have allowed the FiOS installation if Verizon had honored my phone concession - in writing. The last tech (no names please) said Verizon doesn't work with retired employees' 'phone concessions' when FiOS is installed - only the customer's TV. Do you think I really believe this B.S.? Only three weeks ago, one of the younger technicians told me that the Company was now honoring retired phone concessions if I allowed FiOS to be installed. When I asked him who had given him this information to tell me - by whose authority was this new policy being enacted - and if they were putting it in writing - of course he didn't have any answers. It was all a BIG lie.

Lies! Lies! Lies! This company only knows how to tell lies. They no longer have any creditability. More and more people are on to them. The truth eventually surfaces. It always does.

___________________________

UPDATE: JULY 6TH

Apparently there hasn't been a conclusion to this action. I searched Google, but nothing was posted - either way. If anyone reading this article finds information as to how this all resolved in California, I would appreciate your email indicating your source. Thanks.

Regards -

UPDATE: JULY 8TH
A repeat performance! The phone is in trouble once again. I cannot receive any incoming calls. I purposely waited until today (Tuesday, July 8th) before calling the Public Utility to see how long my service would continue without interruption. It is not raining - and yet - my phone service is on the 'fritz'.
What's the excuse today, Verizon?
To be continued . . .
________________________________________
CONGRATULATIONS VERIZON!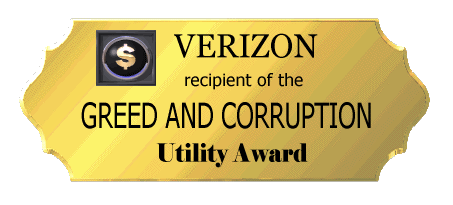 Well done . . . You deserve every minute of it.